"This image is an original work by Kathi Shotwell, and is licensed under a Creative Commons Attribution-NonCommercial-NoDerivs 3.0 Unported License." What this means is: This image is not for resale OR distribution. For example, you can't post it on your "free images" website, or use it on Zazzle or another POD site for your designs, or any other resale or distribution. You do need to attribute (credit) it to me, and whenever possible, a link back to shotwellphoto.com is requested. You may use this image for personal use, but you may not alter it in any way, including cropping or changing the color, tint, hue, saturation,or removing any elements of the composition or the watermark. It's okay to resize it to fit your blog or lens. I love to see my images in blogs from all over the world. But, not if they are changed or not attributed to me.
This poem is titled "Camera" and was on a handout from my first university-level photography professor. It has appeared on every version of shotwellphoto.com since 2002. It was written by American poet A.M. Sullivan (Aloysius Michael) and all copyright to the poem belongs to his estate or whomever (unknown to me) is the legal owner. I do not even know which of Mr. Sullivan's books includes it, and I've googled my fingers off and even emailed booksellers but have not been able to find that information. I have seen one slightly different version on the web, so now I'm not sure if this appears exactly as it was written. If you have or know the book which contains this poem, please contact me. Here, I placed it on a self-portrait, digitized from film, which captures the spirit of the poem. I hope Mr. Sullivan would approve.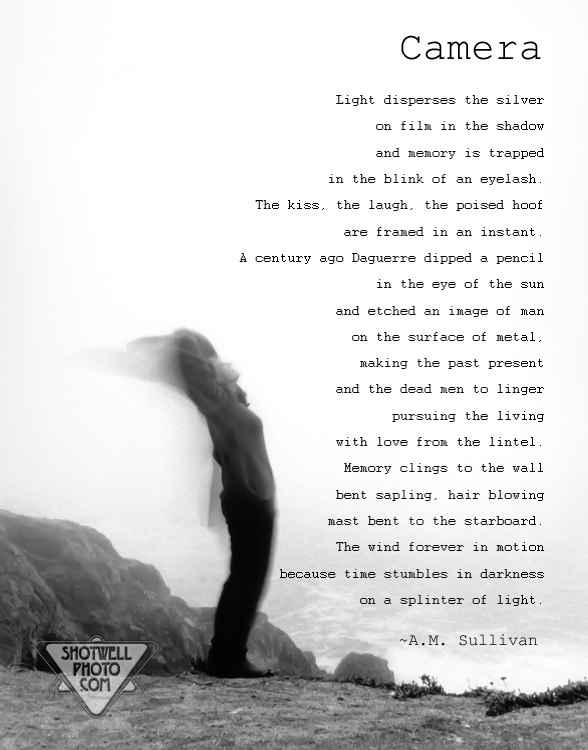 Thanks for visiting!